Red Lion Coaching Inn Website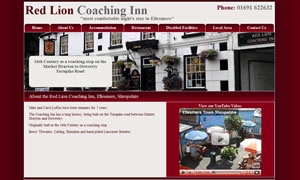 Customer:


Red Lion Coaching Inn

Visit Website:
www.redlion-ellesmere.co.uk
(Website will open in a new window)

With the up and coming use of new media the site has a short video clip embedded into the about us page. Excellent promotional tool.

Web site funded by Rural Regeneration Zone and Shropshire Council thqat has shown a marked increase in enquiries and improved customer numbers. Also linked into www.disabledholidayinfo.org.uk

The video used is a YouTube link that can be added to any of our current sites, just call for details, it is probably more cost effective than you imagine.