Wem Town Council Website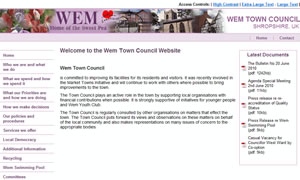 Customer:


Wem Town Council

Visit Website:
www.wem.gov.uk
(Website will open in a new window)

Parish and Town councils should by now be adhering to the Information Commissioner's Model publication Scheme for providing information to the residents of your parish or town.
The deadline was 1st January 2009.

Interactive Information Services Limited has produced a SOLUTION that helps provide the information in an acceptable fashion and therefore fulfilling the criteria stipulated in the Model Publication Scheme.

We can help Parish and Town Councils by offering the following services:
Registration of your town/parish council domain name e.g. yourparish.gov.uk
Provide you with a web site that has a menu structure as demanded by the Information Commissioner.
Host the web site on our fully managed server situated in Telehouse London Docklands.
Provide you with a fully password protected content and document management system for updating the web site.
Provide on-line help via LogMeIn for your administrator.
Populate the web site initially and continue to provide on line assistance
Or you can continue to send documents by email to us and we will keep your web site up to date.
You can view examples of web sites in action at